Newport Residences is a new condo launch in the prime District 2 of Singapore (Tanjong Pagar, Chinatown). Not only is this mixed-use condo conveniently located in the city centre with a wide range of amenities within a short walking distance, Newport Residences also boasts a rare freehold status.
Newport Residences is developed by City Developments (CDL), who are also behind popular new launches including Copen Grand (Tengah EC), Piccadilly Grand, Tembusu Grand, The Myst and more. This new condo replaces the former Fuji Xerox Towers at 80 Anson Road and will have direct access to Tanjong Pagar MRT station via an underground walkway.
Being a freehold condo located in the heart of the Central Business District (CBD) area, the combination of these rare features have earned Newport Residences the spot of being one of the most highly-anticipated condo launches of 2023. While it was first slated to launch in Q1 of 2023, it was later delayed to Q4 due to two reasons.
First, the recent cooling measures for private property owners that was first announced in September 2022 that led the developers to push back its delay in order to restrategise their launch. The second reason for the delay of Newport Residences' launch is due to the unfortunate accident that happened on the construction site, leading to the death of a worker.
As much as Newport Residences has had its fair share of challenges before entering the market, it also has an solid factsheet for a luxury residential property.
Newport Residences Review – Our Verdict
☐ Must buy!!
☑ It's a worthy buy
☐ It's alright
☐ You might want to consider other new launches first
☐ Don't bother
Public Transport Connectivity – 4.5/5★
Driving Accessibility – 4.5/5★
Nearby Amenities – 4.5/5★
F&B – 4.5/5★
Proximity to Schools – 2/5★
Future Developments – 2/5★
Price point – 2/5★
Condo Facilities – 4/5★
Developer – 4/5★
Average score – 3.3/5★
The Good 👍
The Bad 👎
✅ Rare freehold status
✅ Located right in the prime district 2 of Singapore
✅ Direct access to Tanjong Pagar MRT station via underground walkway
✅ Within walking distance to a wide range of eateries
🤔 Expensive price psf
🤔 May take a longer time to complete development
🤔 Not many primary schools to choose from
Newport Residences Review
Book appointment for the Newport Residences showflat below:
Public Transport Connectivity – 4.5/5★
TMW Maxwell is just a short 2 to 3 minute walk from Maxwell MRT Station. Maxwell MRT Station is part of the Newport Residences is connected to Tanjong Pagar MRT station via an underground passageway, making commute via public transport a breeze for residents.
Here are the estimated travelling times for residents travelling from home via the MRT:
Outram → 1 MRT stop / 2 minutes (change to North-East Line and Thomson-East Coast Line)
Tiong Bahru → 2 MRT stops / 3 minutes
Buona Vista → 6 MRT stops / 7 minutes (change to Circle Line)
Raffles Place → 1 MRT stop / 2 minutes (change to North-South Line)
Cityhall → 2 MRT stops / 3 minutes
Bugis → 3 MRT stops / 5 minutes (change to Downtown Line)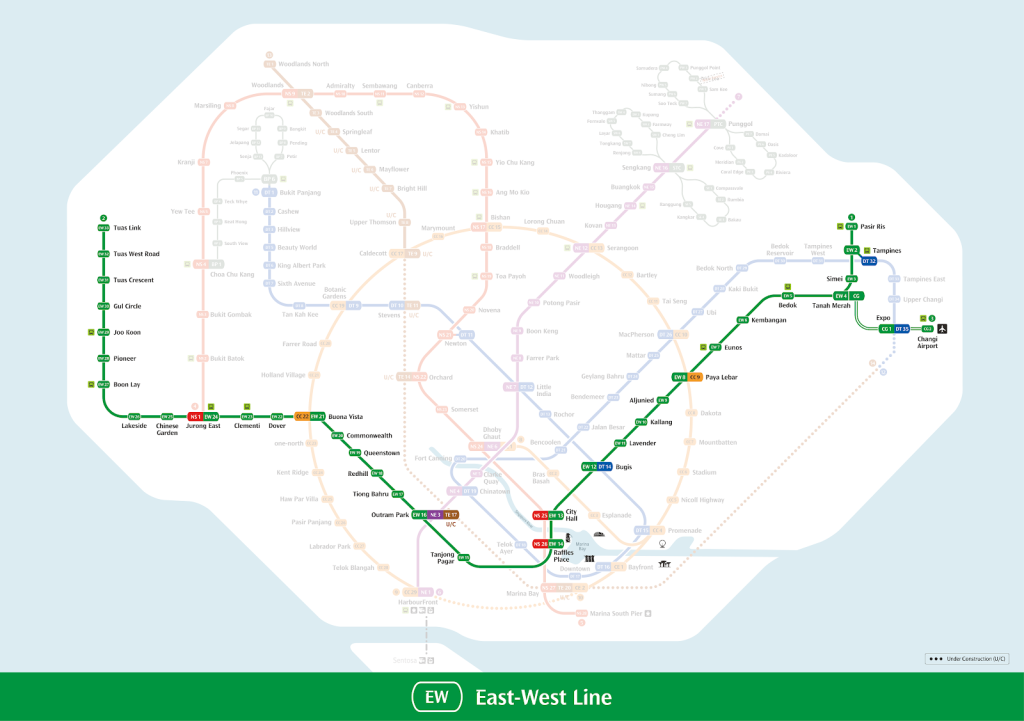 Additionally, residents will also be able to reach other locations in Singapore via bus.
In terms of public transportation, residents will have a great experience with the East-West MRT line for its connectivity to key locations as well as to transfer to commute on the other MRT lines.
Driving Accessibility – 4.5/5★
Newport Residences is located in between Maxwell Road and Tanjong Pagar Road, which leads to 3 major expressways, Ayer Rajah Expressway (AYE), Central Expressway (CTE), and Marine Coastal Expressway (MCE). 
With its central location in the coveted district 1 of Singapore combined with its proximity to major roads, driving to and from TMW Maxwell will be a breeze for residents.
Nearby Amenities – 4.5/5★
Newport Residences is located in District 2 in Singapore, which is known for its bustling city centre that offers residents the unparalleled advantage of having a plethora of amenities within easy walking distance. This prime location is not only a testament to modern urban living but also a testament to the convenience and connectivity that Newport Residences offers to its fortunate residents.
The strategic placement of Newport Residences within District 2 means that residents can enjoy a lifestyle characterised by unparalleled accessibility and convenience. Within a short stroll from the development, residents will find themselves in the midst of a vibrant urban landscape teeming with amenities to cater to their every need, from shopping and retail to shopping and dining.
Shopping malls such as 100AM, Guoco Tower, Icon Village and Chinatown Point are just a few of the amenities that are all within walking distance. In these malls, residents can enjoy not only retail therapy but also a range of services.
Residents can also take a short drive or MRT ride out to major shopping malls such as Suntec City, Marina Square, VivoCity, Plaza Singapura, 313 Somerset, ION Orchard, Takashimaya and more for an even wider range of shopping.
F&B – 4.5/5★
Nestled in the heart of Tanjong Pagar, Newport Residences residents will find themselves in the centre of rich cultural heritage and remarkable culinary scene. For those who harbour a deep love for food, Tanjong Pagar is a dream come true. This district is famed for its bustling streets lined with an impressive array of restaurants, offering a diverse range of cuisines that cater to every palate. The abundance of dining options makes Tanjong Pagar an enticing destination for food enthusiasts looking to call this neighborhood home.
Tanjong Pagar's culinary charm is immediately apparent to anyone who strolls down its picturesque streets. Here, historical shophouses and modern skyscrapers coexist harmoniously, forming the backdrop for a culinary adventure like no other. The district's reputation as a food lover's paradise is not unfounded; it has earned its stripes through a compelling mix of traditional hawker stalls, trendy cafes, upscale dining establishments, and everything in between.
Proximity to Schools – 2/5★
In terms of proximity local primary schools, Newport Residences is only within 1km distance to Cantonment Primary School and
For parents who want a wider choice of primary schools where they can have priority in enrolment, this condo may not be the ideal choice.
If you are a parent of school-going children and are looking for a new place for you and your family, here are some other new condo launches that may be more ideal for you:
Altura: affordable EC close to many prestigious schools, including ACS (Junior)
Grand Dunman: New launch in walking distance to popular schools including Kong Hwa School and Chung Cheng High.
The Reserve Residences: New condo within 1km of reputable schools such as Pei Hwa Presbyterian Primary School, Methodist Girls' School (Primary) and many more.
Future Developments – 2/5★
Being situated in a developed and major neighbourhood in Singapore, there are not as many exciting new developments expected to take place in the vicinity of Newport Residences. 
Price point – 1/5★
With an estimated launch price starting from S$4,000 psf, it is obvious from this Newport Residences Review that the condo is targeted at the affluent. However, even though the price psf is relatively high compared to all the new condo launches in Singapore, it is still within the average price range compared to other new condo launches coming soon in the Tanjong Pagar area.
Here are the other new launches that are also coming soon to the CBD area:
Developer – 4/5★
Newport Residences Review Conclusion
Newport Residences, with its opulent appeal and a price tag of $4,000 per square foot (psf), undoubtedly stands as a prestigious choice for those seeking the epitome of luxury living in Singapore. Boasting a prime location in District 2, this residential gem offers a wealth of advantages, including proximity to nearby amenities, excellent public transport access, and convenient driving options. However, for parents of school-age children who prioritise educational opportunities in their residential choice, Newport Residences may present certain limitations.
For those fortunate enough to afford the premium price of Newport Residences, the benefits are indeed substantial. The development's prime location within District 2 ensures that residents are within walking distance of an impressive array of amenities. Be it upscale shopping, fine dining, recreational facilities, or cultural attractions, everything is conveniently at your doorstep. Public transport enthusiasts will also find their needs met, with efficient bus services and MRT stations nearby, making commuting a breeze. Additionally, those who prefer private transportation will appreciate the easy driving access to major roads and highways.
However, the caveat arises when considering the educational needs of schoolgoing children. Newport Residences, while excelling in many aspects, may not be the ideal choice for families primarily because of its limited proximity to schools. While there might be a few educational institutions within the vicinity, the options may be limited compared to other residential areas in the city.
Parents often prioritise the accessibility and quality of schools when choosing a place to reside, as it directly impacts their children's education and well-being. Families with school-age children might need to explore schools that are slightly farther away, potentially necessitating a longer commute for their children. For parents who place a premium on minimising travel time for their kids, this can be a significant drawback.
Nevertheless, it's important to note that for individuals or couples without school-age children or those who are willing to make the necessary arrangements to address the educational aspect, Newport Residences remains an attractive choice. Its lavish living spaces, proximity to amenities, and excellent transportation links make it a luxurious haven in the heart of the city.
In conclusion, Newport Residences is a top-tier residential choice for those who can comfortably afford its premium price of $4,000 psf and value its exceptional location and accessibility to amenities and transportation. However, for parents prioritising the proximity and availability of schools for their children, Newport Residences may not align with their educational preferences. Careful consideration of individual priorities and needs is essential when making a decision about living in this prestigious development.
Download Newport Residences price list and floor plans below: